Assessed by Day, Shielded by Night
A fall prevention ecosystem for all the time.
Residents stay in lower levels of care longer when you eliminate falls at the source — low mobility. Keep an eye on high mobility residents regularly with predictive fall-risk assessments, and keep your high-risk residents safe with predictive bedside monitoring. Provide protection for every risk level.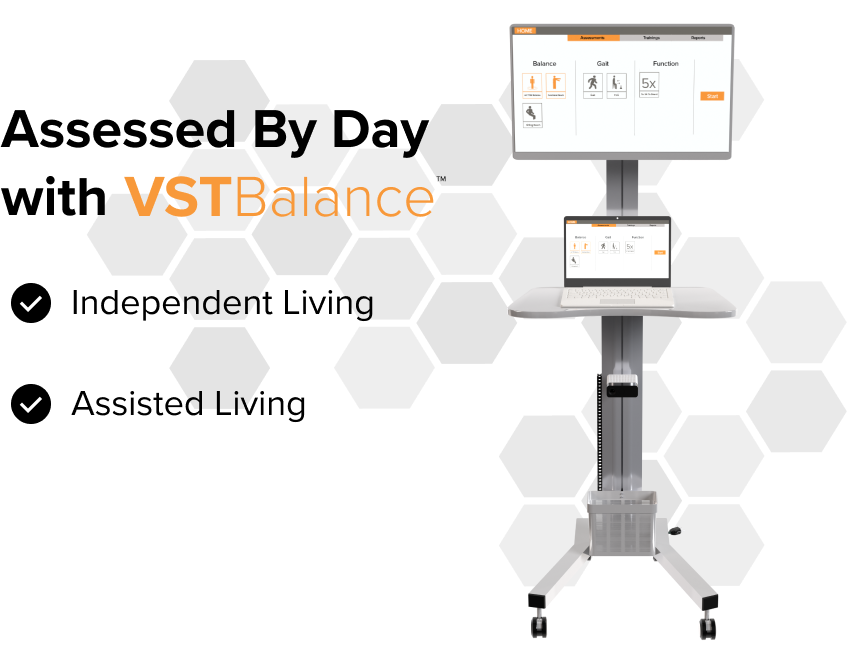 Evidence-based fall-risk score

2-minute assessments for long-term prevention

Cloud Analytics Dashboard

Recommended Exercises and Biofeedback Training Games

Population Health Management Dashboard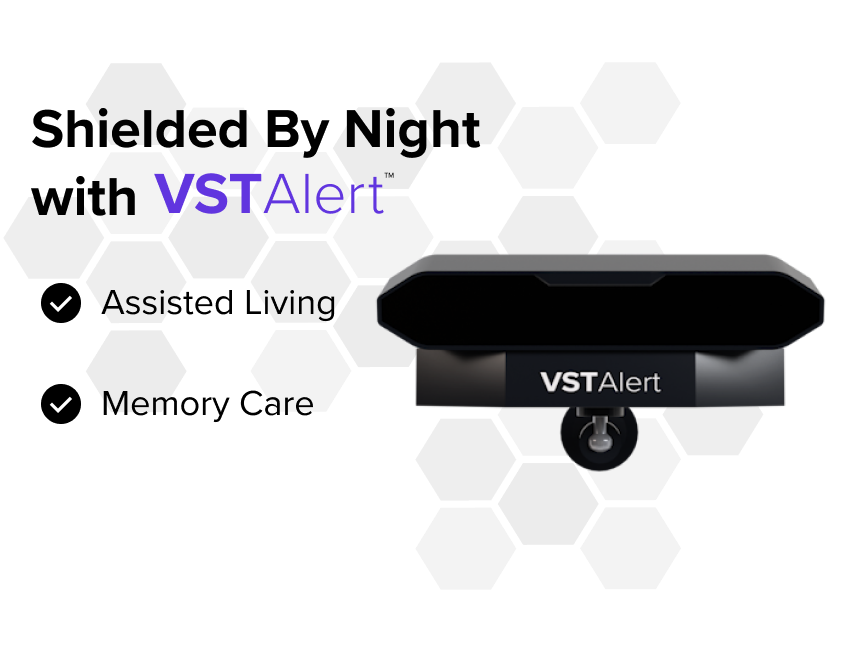 24/7 In-room fall monitoring

LIDAR Sensor monitoring for maximum privacy (not a camera)

Detects intent to exit a bed or chair

Notifies staff 30-60 seconds before a fall occurs

100% HIPAA Compliant Platform
Your Forecast on Fall Prevention
What makes preventing falls so difficult? The element of surprise. With VSTAlert, staff can be in-the-know about high-risk situations, so that they're present before a potential fall. VSTAlert's predictive AI sensor sends an alert to every floor staff's mobile device so residents are quickly attended to before an accident occurs.
Identify risk—from person to population.
Personalized care can be time-consuming—but it doesn't have to be. With VSTBalance, residents can see their progress quantified over time, and comprehensive data makes it easy for therapists to provide personalized care plans to each resident.
On a single dashboard, community leaders can see the cumulative fall-risk level of their entire population to measure the success of their wellness program with VSTBalance's population health management platform.
Made for Resident Routine
VSTAlert gives residents the freedom of routine. Customize your fall prevention monitoring with VSTAlert by setting the sensor's mode depending on individual risk-level. Fall Prevention and Fall Detection modes can be easily toggled between, and set for different times of the day in accordance with each resident's daily routine.
Increase Your Census When Residents Are Strong
Strong residents result in stable census. Occupancy rates are more likely to increase when therapy class attendance is on the rise—because when fall-risk levels are low, your residents aren't moving between levels of care as often. In less than 2 minutes, VSTBalance measures resident mobility so therapists can intervene early and keep a close eye on improvements with a comprehensive analytics dashboard for every individual.
Meet Katie
Monitoring Designed for Memory Care
Katie is an experienced memory care nurse who is great at keeping her residents happy in their routines. A new resident, Mary, moves into the the memory care wing after being diagnosed with Alzheimer's disease.
After review of Mary's file, Katie sees that her doctor prescribed a new medication with a side effect of dizziness. Proactively, Katie updates Mary's VSTAlert monitoring schedule from fall prevention alerting only at night, to fall prevention alerting around the clock.
For the next few days, Katie is alerted around 30 seconds before Mary tries to get out of bed in her room, so she's able to assist her in time before a fall. She finds Mary needs the most help in the morning after taking her new medication, but later in the day, she's able to be more independent. So Katie updates Mary's monitoring schedule for Fall Prevention Mode in the morning, and Fall Detection Mode in the afternoon. Katie has peace of mind that Mary's unique schedule is covered with VSTAlert.
"The right type of fall prevention strategy in tech is critical, especially when dealing with workforce challenges. VSTAlert is accurate and only notifies staff when there is a fall risk. Far too many systems set off false alarms which creates extra work."
Pat O'Leary | Chief Strategy Officer at Short-term Skilled Care at The Deery Suites, Western Home Communities, Cedar Falls, IA
"VSTAlert is a real game changer in fall reduction. Our initial results using this technology have been truly remarkable."
Dr. Daniel Rexroth | President & CEO | John Knox Village, Lee's Summit, MO
"VSTAlert cut down on PPE and it eliminated the nurses' concern about going room-to-room to check on residents. All the information they need is right in their pockets, on their smartphones."
Florence Kabia-Williams | Director of Nursing at UMC at The Shores, NJ
"We only have VSTAlert installed in rooms of residents at the highest risk for falls, so when an alert is sent, the staff know that is the highest priority and they need to respond quickly. It gives staff peace of mind knowing they have that extra layer of fall prevention for the high fall risk residents."
Karen Nelson, RN, BSN | VP of Clinical Services at Larksfield Place Retirement Communities, Inc., Wichita, KS
See How It Works
Request a Demo