Privacy is not the price of fall prevention.
Using video surveillance, even for increased safety and fall prevention, comes with ethical and legal concerns that have large impacts on a community. From stripping residents of their privacy to potential HIPAA violations, in-room surveillance can be risky for LTPAC communities.
VSTAlert is the solution that values resident privacy and provides maximum protection by using LIDAR sensors for fall prevention.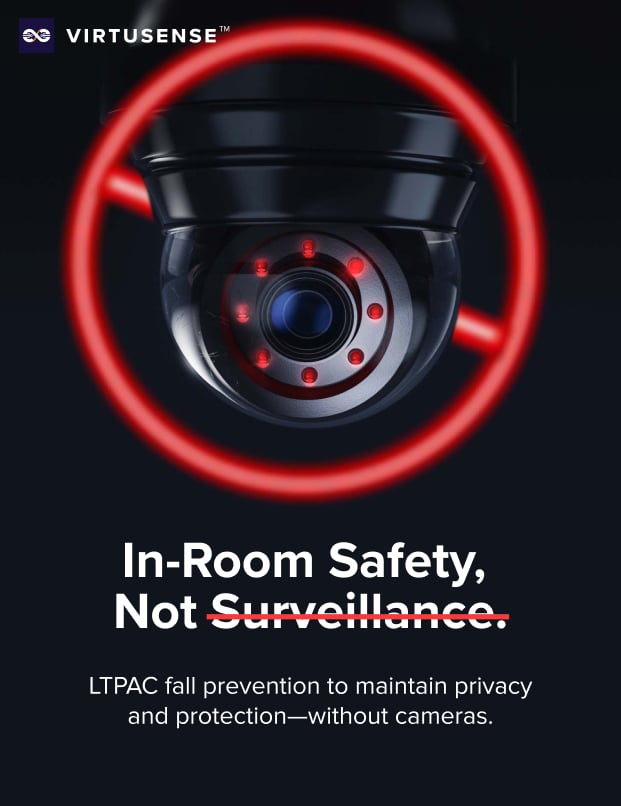 Monitoring that Prioritizes Privacy
| | VirtuSense | Competitors |
| --- | --- | --- |
| How are residents monitored? | Using LIDAR sensors, AI detects a resident's intent to exit their bed or chair 30-65 seconds before they stand and alerts staff to help. This allows staff to be proactive against falls. | Cameras record footage of resident rooms. This footage is reviewed live by care staff or telesitters. |
| What fall reduction outcomes can I expect in my community? | Communities can expect over an 80% reduction in overall falls. Even when using the system in only the highest fall-risk resident rooms, clients found an over 80% reduction in falls. | Communities can expect a 30-50% reduction in overall falls. |
| How does this solution maintain privacy and HIPAA compliance? | VSTAlert uses LIDAR sensors, not cameras, to monitor residents. This data is not photorealistic and requires AI interpretation. Data is never transmitted by the device, and every resident's privacy is maintained without sacrificing safety. | The use of cameras requires individual resident/family consent to record in private living areas. All surveillance is recorded and hosted on a secure server and can be accessed by in-person staff or telesitting staff. This means there are several people with access to watch residents day-to-day. |